Organization
The Vetschool at Faculty of Health and Medical Sciences (SUND) at University of Copenhagen (UCPH) was established in 2012 following a merger of the "wet" faculties at UCPH.
The Vetschool is headed by School director Charlotte Bjørnvad, crb@sund.ku.dk 
To strengthen the institutional embedding of the education an Education Council has been established in order to coordinate the programmes and market the school to the students and prospective employers. The Education Council shall consider and coordinate educational issues, taking into account strategic, professional and resource considerations.
The Vetschool work  closely with the other schools and programmes at the university, e.g. in UCPH's inner market for courses and programmes.
Click here for more information about the Vetschool Programmes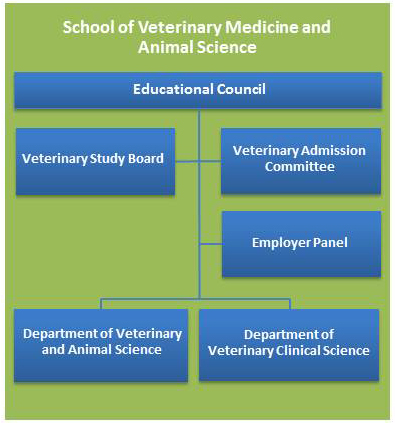 See the organisation at the Faculty of Health and Medical Sciences
More information about the Councils and Boards can be found here.