Master of Veterinary Public Health
The Master of Veterinary Public Health education is a post graduate part time master's programme dealing with control of contagious animal diseases and zoonosis, veterinary epidemiology, and animal health economics.
Besides a general knowledge in disease control and prevention, you will obtain competences to develop and implement methods and comprehensive strategies for surveillance and risk assessment, control, prevention and eradication of diseases in production animals – at the herd, regional, national and international level - and to further evaluate the economical consequences of different control strategies.
Target group:
The programme primarily addresses persons working with control of production animal diseases - typically in the veterinary services, agricultural organizations for primary animal production (e.g. swine, cattle, poultry, fish, fur animals), the food processing industry, pharmaceutical industry or veterinary institutions involved in research and disease control.
The courses are planned as a combination of distance learning (e-learning) and on-campus learning. Activities include lectures and theoretical and practical exercises with independent as well as group studies, in order to train and qualify students in the application of theoretical knowledge. Each course is completed by evaluation of submitted material and reports and/or an examination.
We offer you guidance in all course activities, reports and exercises. Also, the master's project is completed under guidance of a supervisor employed at the Faculty of Health and Medical Sciences, University of Copenhagen.
Courses
The programme consists of six compulsory courses, a number of elective courses and a master's project.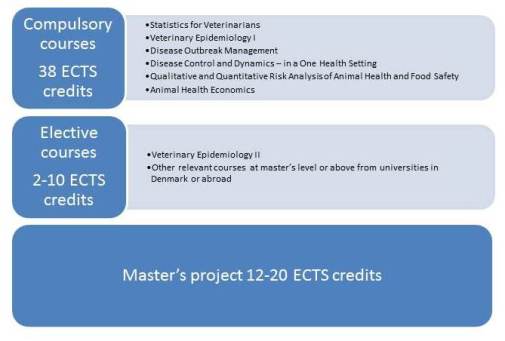 Admission requirements:
A BSc or MSc degree in veterinary medicine, human medicine, agricultural sciences, engineering or natural science is required – and at least two years of relevant full time working experience after having completed the qualifying course of study.
If you wish to attend single modules the academic requirements can be deviated.
Good English language skills are imperative.
You can enrol in the programme at any time according to the application deadline for the next course if you complete courses in the order they are given.
Tuition fee:
The tuition fee for the whole programme is approximately 100,000 DKK. This price is for EU/EEA citizens and other citizens with a permanent residence permit in Denmark. If you are not an EU/EEA citizen, you will have to pay an extra fee of DKK 940 per ECTS credit (price per 16 September 2011). The prices are regulated every year.
Contact:
If you have any further questions, please contact:
Lone Lundgaard Jensen

Faculty of Health and Medical Sciences

Study and Students' Affairs

Universitetsparken 2

2100 Copenhagen Ø

TEL +45 3533 6000

DIR +45 3533 6389